Whether your project is an outdoor permanent rink, indoor community skating center or 16,000 seat arena, Everything Ice is your single source for reliable and efficient ice rink construction. We have the expertise and craftsmanship to ensure that your rink is designed properly, using only the latest cutting edge technologies to ensure long lasting performance.
Reliable Sub-Floor Heave Protection
Floor heaving from frost and expansive soil materials is a serious matter when constructing an ice rink. Rinks that operate year-round or for extended seasons should install a sub-soil heating system to avoid potential problems. Frost heaving could destroy a complex and should not be taken lightly. Frost Shield is a sub-soil heating system placed beneath the rink floor to eliminate this condition.
Frost Shield is encased within a sand layer, below the floor insulation membrane. The piping system is a seamless, all poly fusion welded system to eliminate all mechanical joints under the floor providing a lifetime of reliable operation. An anti-freeze solution is circulated through the piping, keeping the floor temperature above freezing.
Permanent rinks require expert engineering and craftsmanship to provide the needed longevity. Using common sense construction principles, we believe the success of the rink starts with a good foundation. That is why all of our permanent installations include a Frost Shield sub soil heating system in conjunction with precision laser level fine grading. The Frost Shield will defend against any future possibilities of underfloor heaving due to ice buildup beneath the rink surface.
The rink piping system is one of the most important factors in a high quality ice sheet. An exceptional sheet of ice depends largely on the ability of the rink piping to remove heat in a uniform and efficient manner. Enter the experts at Everything Ice. We have been manufacturing rink piping system for more than 30 years, using only the newest and most cutting edge technologies to ensure longevity, reliability and peak performance. We have the ideal solution for your permanent rink floor, whether it be for a concrete or sand based rink application.
We have 3 unique products to meet every customers need. Our Fusion Ice system uses the most recent technologies to ensure a non corrosive, seamless and leak free system. Our Rapid Ice system utilizes the tried and true performance of a steel header and u-bends with poly piping. Lastly, our Perma Ice system is ideal for retrofit applications or where flexibility is required.
Fusion Ice in a concrete based floor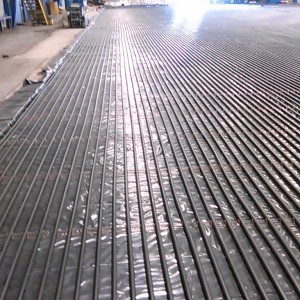 Fusion Ice in a sand based rink floor
At Everything Ice, we are committed to providing quality products at affordable pricing. No matter your budget or needs, we have the solutions for your permanent rink installation.
For more information please see our Fusion Ice brochure
For more information please see our Rapid Ice brochure
For more information please see our Perma Ice brochure